Hi there. My name is Phil Whitchurch and thanks for visiting my amateur radio QSLing web site.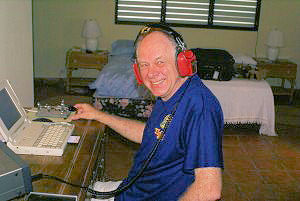 PLEASE NOTE THAT WITH EFFECT FROM NOVEMBER 2019, I WILL NO LONGER ACCEPT QSL REQUESTS VIA THE BUREAU SYSTEM. ONLY REQUESTS MADE VIA THE OQRS FACILITY ON THIS WEB SITE WILL BE REPLIED TO.
As the QSL Manager for a number of DX stations and DX-peditions I firmly believe that, even in the 21st century, QSL cards continue to be an important part of our hobby of amateur radio. The main purpose of this web site is to enable operators to view the QSL cards, search the logs of most and request bureau and direct QSLs for all of the 160+ callsigns that I currently manage. I have also included some pages to assist and instruct both new DX-ers and old hands in how best to obtain that all important QSL card from me.
The RSGB QSL bureau has recently decided that it will no longer forward outgoing cards for stations whose operators are not members of the RSGB or for stations in countries where there is no working QSL bureau. This means that I will no longer be able to answer bureau requests for a number of the stations that I manage and that cards for these stations will only be available direct. Those stations affected are clearly identified on the list of callsigns that I manage and on the individual station's page on this site.
Contrary to popular opinion, I am neither a charity nor an eccentric millionaire. Whereas I give my time freely, I do expect the QSLing process to cover my direct costs in terms paying for the return postage of direct QSL requests, together with my related and reasonable expenses, such as QSL card printing, other stationery and printer consumable costs, bureau postage etc. In some instances, it is even necessary to cover the cost of buying and shipping spare parts to the DX station or paying his licence renewal fees in order to keep him on the air.
Fortunately, many DXers are happy to include an extra dollar or two with their card request to help in offsetting the cost of the QSL-ing process, which is greatly appreciated and put to good use.
Please click on any of the links on the left hand side of this page for more information, to search some of the logs of the callsigns that I manage and to request bureau QSLs.
I do not upload any logs to e-QSL or QRZ.com, although some individual operators may do so.
73 for now and good DXing.
Phil
G3SWH
Work is the curse of the drinking classes!